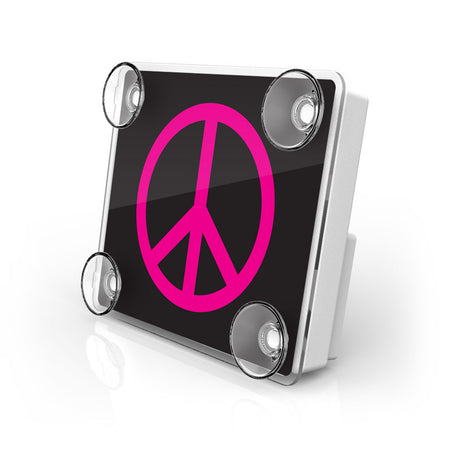 You must be tired of the original white toll pass that comes with those two strips of Velcro that you need to attach to the windshield and to the holder. Not only does it look quite unattractive; those are pretty hard to remove when you don't want it. You would find that the Velcro peels off over time and you end up having to purchase it separately which again ends up costing you extra money to replace

We have created the perfect solution product for this predicament. Using premium clear see through plastic material so your windshield appearance remains perfect, we have even added really attractive decorative adhesive decal attached to the holder! You can personalize this choosing from over 100+ design options. All of these are 100% genuine 3M vinyl film with premium UV ink for eye popping color. You are sure to love it!

It's super easy to install and take off while giving your car a very nice impression. Made in USA with the U.S. Patent in process and we have ensured that we stick to best quality assurance and control protocols to bring you a great, fun product. 
Check out our Tie-Dye Peace design as well!
Package Contains:
- Large Toll Pass Holder in Pink Peace design + 4 suction cups with release tabs
- 4 pcs Geuine 3M DualLoc Velcro strips ($8.00 Value)
- Easy to follow Instruction / Warranty registration 
(note: toll pass is not included)
Holder Dimension:
- 3.75" x 3.25" 
FEATURES
Fits all major toll pass holders
Including: New York, New Jersey, Massachusetts, Maine, Vermont, Pennsylvania, Delaware, Illinois, Maryland, South Carolina, Indiana and Virginia

(any toll pass that measures smaller than our holder will work)
Easy to install and remove
Attach the holder in just 5 seconds with suction cups which even come with release tabs so it is super easy to remove.
Creativity meets Quality
Decorative adhesive decal is a new way to personalize your vehicle even if you don't own a toll pass! Plus the clear material is easy to maintain while expressing your unique personality.
Inexpensive
Who said you need to spend a lot to have an attractive looking toll pass holder? This is inexpensive and simple!
Long lasting
This solves the problem of Velcro peeling off, sticking onto the windshield when you do not want it etc., The suction cups it uses are cutting edge and perfect for you.
Warranty
One year warranty is included from the date of purchase. This warranty covers the repair or replacement of the broken item at our discretion. If you are not 100% satisfied with your purchase, simply return the product within 30 days for full refund.